Sign in to Formed.org easily, click on this link - Formed.org - then follow the prompts listed below.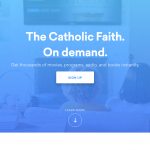 This is the first page you will see when you go to Formed.org. Select the button "Sign Up". (To enlarge this images, click to open in a new tab.)
The next screen will give you three options. Choose the 2nd option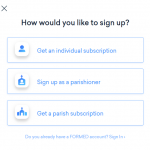 "Sign up as a Parishioner"
The next screen after that will ask for the zip code of the parish. Type in 14891 till you see our name come up.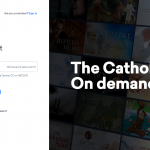 Then type in your name and email address and click on "sign Up".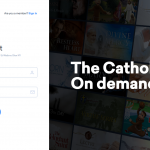 You will be sent an email to verify your details, click on the link in the email and you will be signed up and signed in!  Contact Rose be email - [email protected],  or phone, 607 535 2786 xtn 101, for help getting started and finding your way around...
Click on one of the videos below for instructions to sign up or in on different media...
Click on one of the images, for a movie or documentary, to go directly to that page, once you have signed in.
Watch this video to get signed up on Formed.org
Watch this video to use an Android device for Formed.org
Watch this video to use Roku for access to Formed.org
Watch this video to use an iPhone/iPad for Formed.org