Contact:
607-535-2786 (phone)
607-535-2990 (fax)
Office Hours: 9-5 M-Th
Mailing Address:
P.O. Box 289,
Watkins Glen, NY, 14891
Locations:
St. Mary's of the Lake
905 N. Decatur St,
Watkins Glen NY

St. Benedict's Church
304 Speedway,
Odessa NY
Mass Times:
As restrictions due to Corona Virus are easing, we are transitioning back to our regular schedule of Masses.
Mass times are 5:00 pm Saturday at St. Benedict's, 8:00 am, 10:00 am and 12:30 pm on Sunday at St. Mary's.
The weekday Mass schedule is
Monday, Wednesday, Thursday and Friday at 8:00 am.
Confession Times:
Confessions are heard from 3:30 - 4:30 p.m. on Saturdays at St. Benedict's or by scheduling an appointment for confession with the priest at a more convenient time for you. Please call the parish office to make such an appointment.
The Parish Office
Learn from Fr. Jeff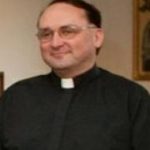 Read his Blog Posts at
Or see his teaching presentations at